---
---
Wetzlar Resorts and Hotels, a sophisticated, rejuvenating and an inspiring stay, is a hidden heaven that enjoys an idyllic natural verdant, located at Muvattupuzha, in the Ernakulam district of Kerala, also known as God's Own Country. This extremely beautiful resort offers exceptional 5 star hotel accommodation options, providing the ultimate in contemporary comfort whilst offering the benefits of an exotic southern Indian experience nestled among tranquility and wildlife.
---
Wetzlar Resorts and Hotels, is a Private Company incorporated on 18 July 2008. The resort saw it's proud inauguration ceremony on 29 January 2015, by the honorable Shri Oommen Chandy, Chief Minister of Kerala. Wetzlar earmarks being the first international resort accessible from Cochin International Airport in just 30 minutes while also being in close proximity to a range of wildlife parks, hill stations, bird sanctuaries, sandy beaches and the must-see backwaters.
---

---
Utmost care and preparation is taken to customize each accommodation to suit the individual needs and wants of each visitor. All living quarters are equipped with state-of-the-art facilities that allow for a modus vivendi encompassed with an authentic south Indian flair encouraging our guests with a hunger to return again and again.
---
Three choices of rooms are available at Wetzlar- executive rooms, suite rooms and private cottages with each setting having unique properties. Infusing modernity and traditional Kerala architectural epitomizes privacy and natural aura. Soft furnishings combined with exotic artistic wood work reflects an authentic Keralite rusticity.
---

---
The Spice Island restaurant serves traditional food from the Malabar coast as well as old fashioned genuine Indian cuisine, enticing Chinese and classic continental cuisine.
---
The 24 hour coffee shop caters to round the clock delicacies and wholesome eats, as well as cool natural smoothies and hot beverages.
---
The unique swimming pool, indoor games and amphitheater adds value to the resort. A well equipped Conference Hall will meet the demands of every business guest whether it is a training or a conference. The Ayurvedic Spa provides authentic forms of rejuvenation and traditional ayurvedic treatments with in-house doctors and therapists.
---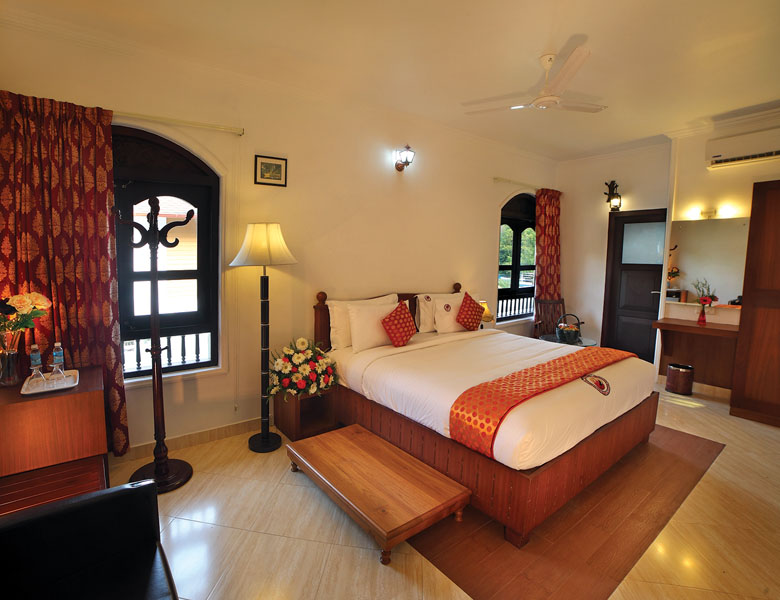 ---
HERITAGE AYURVEDA VILLAS
A travelers dream accommodation, offering total privacy and en-suite bathtubs merely add to the impressive pleasures of a stay at both the Heritage Ayurveda Villas in Wetzlar Resort. Along with the enchanting view of the wide greenery on the Portico and Garden area with exquisite amenities like private canopy and yoga deck etc to lighten the travel fatigue.
---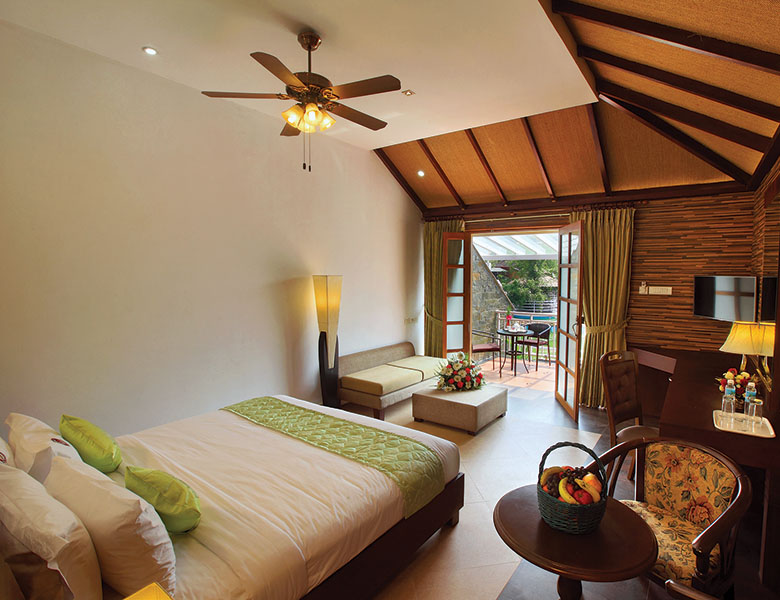 ---
POND VIEW CHALETS
The splendidly built 20 Chalets have a fashionably designed interior. The interconnecting Chalets at 2 corners of the cluster with two large bedrooms opening conveniently into each other are set aside from the general areas, ideal for families with children seeking a little quiet and couples for their personal space.
---
---
SUITE ROOMS
Designed with sophistication and comfort in mind, the 3 suite rooms at Wetzlar Resort come with a thoughtful well designed workspace. Each room is crafted according to the changing needs of new age travelers.
---
---
STANDARD ROOMS
The Deluxe and Executive Rooms at the main block offers views of the lush nutmeg and rubber plantation to the guests. All rooms here combine a classic elegance with modern design in a serene setting.
---
Wellness Well Pampered
When you decide to stay at WETZLAR, you give yourself the added advantage of enjoying the magic of Ayurveda.